This page is adapted from the entry on the Lost Boys Wiki.
Santa Carla is the quintessential beach town, located in Beacon County, California, a town that seemed to reach its peak in the 1980s, then never left. Not far from the sun and surf of the beach, calliope music and laughter fill the air at the Santa Carla Beach Boardwalk, the West Coast's oldest surviving seaside amusement park. A few blocks from the beach is Santa Carla's picturesque downtown. The pedestrian-friendly, tree-lined streets are filled with vibrant shops and galleries, outdoor bistros and sidewalk musicians--all in keeping with Santa Carla's offbeat personality.
The Boardwalk
Edit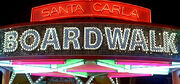 The Santa Carla Beach Boardwalk is an oceanfront amusement park. It is California's oldest surviving amusement park and one of two seaside parks on the West Coast of the United States. It features classic attractions, such as the landmark red and white Giant Dipper roller coaster and the Boardwalk's classic carousel, built in 1911, which features one of the few remaining brass ring machines in the country. Riders on the outside horses can still grab a ring and try to throw it in the clown's mouth. There are also free concerts every Friday all through Summer on the Beach Bandstand.
Logs featuring Santa Carla:
Coming soon!
Community content is available under
CC-BY-SA
unless otherwise noted.