Beacon Hills
High School is a public school, best known for their school sports team, who are each known as
The Cyclones
. The lacrosse team is especially noteworthy. The Beacon Hills Public School was first established in 1941 as a public high school, operating separately from the Beacon Hills Grammar School. In the 1980s, the public school campus was expanded, occupying land across the street from the existing campus. The former grammar school was moved to this new location, from then on operating as Beacon Hills Elementary under the auspices of Beacon Hills Public School. In the years since, the school has developed a strong reputation for academic excellence, despite constant struggles for funding and an unusually high staff turnover rate.
Physical Description
Edit
Beacon Hills is a fairly typical public high school. Brick buildings and well-manicured lawns make up the exterior, with a brick and stone sign in front, dedicated to the class of 1980, that declares "Est. 1941" and " Beacon Hills High School." The front steps lead up to double doors, which open into the entry hall with the "BHHS" logo displayed prominently on the floor. This opens into several corridors of plain, off-white hallways with rows of lockers in muted teal and wooden doors opening into offices and classrooms. The rear of the school opens onto the parking lot, adjacent to the gymnasium and lacrosse field. Printed in large block letters on the outer gym wall are the words: "HOME OF THE CYCLONES."
Inside the classrooms, the walls have been painted the same muted teal color, while standard wood-and-plastic desks face front toward white boards and projection screens. The school is tech-forward, with ELMOs and integrated computer stations, as well as school-based wifi and other basic amenities. The science classrooms replace desks with worktables and stools, while computer rooms feature long tables and office chairs with row after row of PC and Mac workstations, depending on who sponsored which particular computer lab. The school's main office is located right in the front, handling attendance and visitor admission matters, while the principal's office is located in back, overlooking the rear grounds.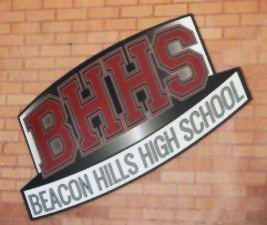 Current Staff
Edit
Andrew Bergstrom, Business/Computers
Robert Finstock, Economics, FCS, Coaching
Roberta Javier, Industrial Arts
Katherine Keating, Mathematics
Natalie Martin , Biology & Life Sciences
Marin Morrell , French
Diane Mallow, Art/Theater
William Watson, English/Literature
Ken Yukimura, History/Social Sciences
Former Staff
Edit
Logs featuring Beacon Hills High School:
Coming soon!
Community content is available under
CC-BY-SA
unless otherwise noted.